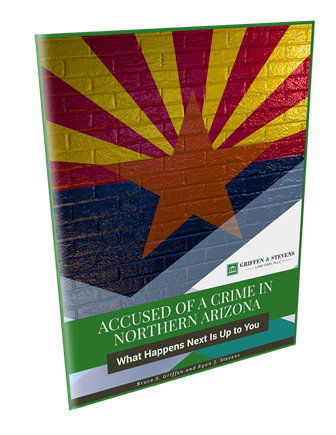 Criminal convictions can result in a wide range of devastating consequences, including reputational damage, employment consequences, fines, probation, jail or prison time, mandatory registration or reporting requirements, and the loss of essential rights and privileges.
If you're the subject of a criminal investigation or have been charged with a crime in Northern Arizona, you may understandably feel anxious and concerned about your future. Though involvement in the criminal justice system can be intimidating, you're far from helpless. You have rights, as well as numerous opportunities to take proactive steps that can positively impact your case.
Top-Rated, Award-Winning Representation in the Heart of Northern Arizona
At Griffen & Stevens Law Firm, PLLC, our Flagstaff criminal defense attorneys provide clients with the skilled representation these high-stakes cases demand. Our legal team boasts a 40-year veteran criminal defense attorney who's worked on more than 10,000 misdemeanor and felony cases, a seasoned former felony prosecutor, and an experienced litigator. We've helped clients through some of the darkest moments in their lives. Now we've written Accused of a Crime in Northern Arizona: What Happens Next Is Up to You to provide you with essential information about Arizona criminal cases. Learn:
The difference between felony and misdemeanor charges and how these distinctions impact the trajectory of criminal cases

The potential consequences of criminal convictions

The importance of exercising your right to legal counsel

The benefits of securing representation as soon as possible

The phases of an Arizona criminal case

How misdemeanor and felony cases are processed

And much, much more.
Request a Free Copy of Our Guide to Arizona Criminal Cases Today
Complete the contact form on this page to request a free download of Accused of a Crime in Northern Arizona: What Happens Next Is Up to You.